Princess
The Challenge:
In June 2012, a young pregnant pit bull was dropped off at a local pound by her owner, just days before giving birth to her pups. The pound could not accommodate a mother and a litter of pups, so options were to euthanize the pups once they were born or euthanize the mom prior to delivering.
Our Solution:
ARK was made aware of the situation just days before the euthanasia was to take place and knew we had limited time to find a third option for Princess and her puppies. We sprung into action and, against all odds (after all, not many organizations are looking to take in a pregnant pit bull), were able to find a rescue organization to take her in.  A shelter was found and the wonderful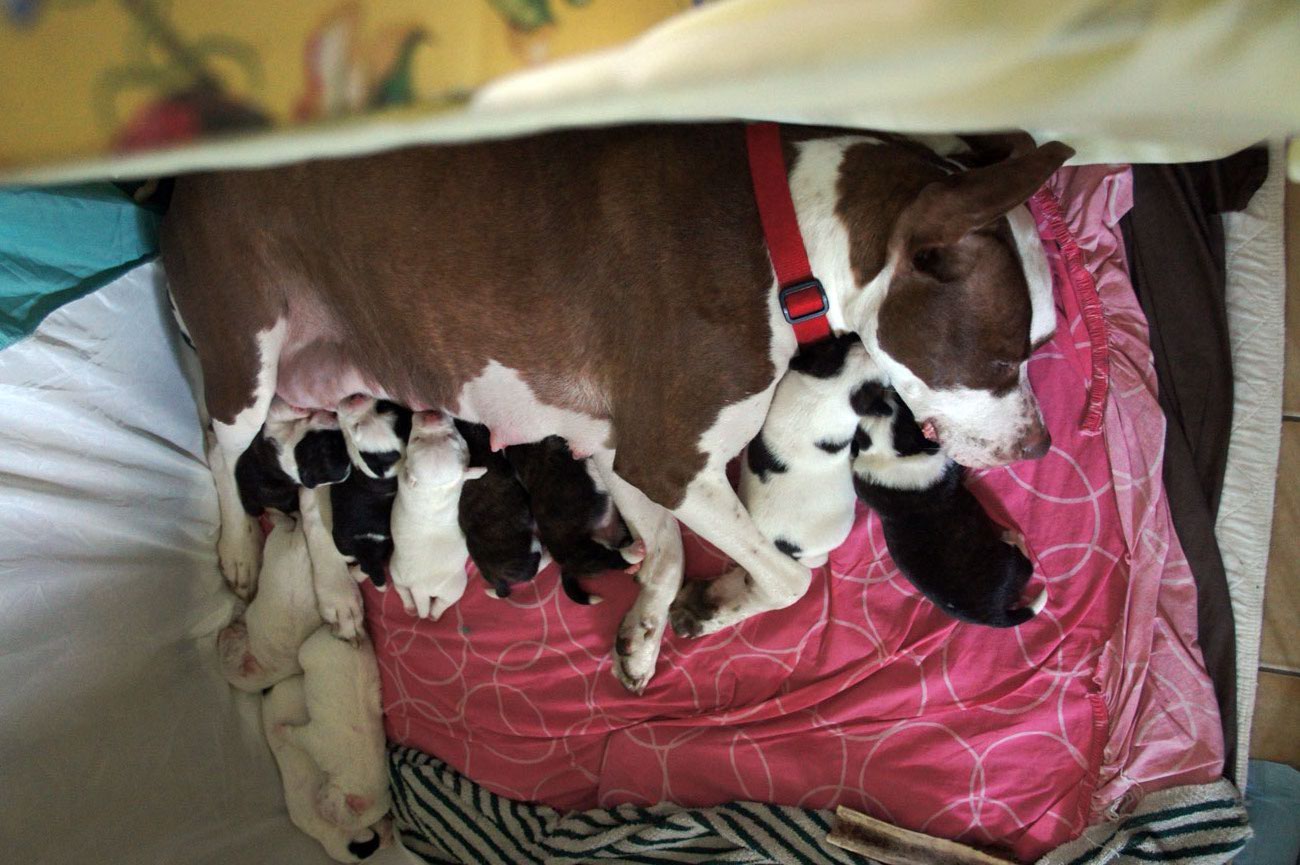 volunteers cared for Princess around the clock until her pups were born and until every one of them including Princess was adopted. The staff had to continuously replenish their tennis ball supply as Princess would endlessly hide them in the yard.
Happily Ever After:
Through this collaborative effort, Princess and all of her pups found wonderful forever homes. Princess was adopted by a couple that happily enables her tennis ball obsession
---
  Bella
The Challenge:
ARK was contacted by a gentleman living in a half-way house who sought our help to re-home his deaf pit bull, Bella. Bella was left with "friends" during his incarceration and, during this time, had been terribly abused. When the gentleman was released, he took Bella back, even though he was not allowed to keep her in his current living situation.
Our Solution:
We agreed to meet and evaluate Bella to see what her options were. When we met them, Bella was muzzled, barking and lunging at the end of her leash. We spent over an hour with them, during which time Bella warmed considerably, but was still wary. There was no way to properly assess her in her current frightened state, but we knew that if she was taken to most shelters, she would be euthanized on arrival.
We contacted the animal shelter in Fitchburg at the time, and made the 90-minute drive with Bella in hopes of giving her a second chance. There Bella was given the time that she needed to feel comfortable with people again.  The shelter has since closed.
Happily Ever After:
Bella was eventually adopted into a loving home with another pit bull and a young child.
---
Nala
The Challenge:
Just days before Christmas 2015 a tenant received a letter from his landlord saying he had to get rid of his dog, Nala, who he had rescued four years ago from an abusive situation. The tenant, Chris, forwarded to ARK an owner surrender form.  Chris was devastated and could barely speak when we called.
Our Solution:
ARK researched the facts. While Chris awaited his formal notice to quit from the landlord, we worked with him to prepare for negotiations with the landlord. Some of the things we did were prepare Nala for her Canine Good Citizen Certification by starting her in a training class with Chris, arranged to have photos professionally taken of Chris and Nala showing the bond they had, obtained a letter from Chris's doctor verifying the need for an emotional support dog and obtained letters from neighbors verifying Chris was a responsible dog owner. With all of that, we arranged to have a professional mediator contact the landlord.
Happily Ever After:
The landlord dropped the case and Chris and Nala are living together happily ever after. 
---
Frankie

The Challenge:
Frankie was transferred to a shelter but within 24 hours, he was labeled "dog aggressive". He was slated for euthanasia if ARK could not find placement for him.  
Our Solution:
One of ARK's trainers conducted her own evaluation of Frankie. Once she realized his life was in danger, she took Frankie home with her.  What was supposed to be a temporary, life-saving measure, turned into a long–term affair.  She adored Frankie, and he soon became her "demo dog" for training classes.
Happily Ever After:
While being the demo dog, Frankie was spotted by what would soon be his guardian for life. Frankie continues to thrive.
---
Henry  
The Challenge:
ARK was notified by volunteers of a shelter about a dog named Henry. There was concern because an evaluation was done on Henry by two trainers who never took Henry out of his kennel.  One trainer did a stare down. The other trainer stayed behind a curtain and periodically turned it back while Henry barked in fear. He was labeled "too dangerous to be evaluated." At the same time, shelter volunteers were interacting with him appropriately and found him to be a great dog.
Our Solution:
ARK reviewed the videos of the evaluations and gathered information from the volunteers at the shelter. We determined from Henry's interactions with the volunteers and more convincingly from viewing the evaluation tapes, that Henry was mislabeled.   However the staff did not want to transfer Henry. Thankfully Henry had "friends" at the shelter and we were able to transfer him to a rescue that had an experienced foster home available.
Happily Ever After:
Henry was adopted by his foster family and is a very happy (and lucky) dog.
---
Stan
The Challenge:
Stan was a young boy, just around a year old. He was taken into a shelter as part of a raid on a home along with seven other dogs. Stan was abused and used for breeding. All of his upper front teeth were removed by his abusers.  In spite of it all, he adored people.  ARK evaluated him and was working on placement when another shelter took him into their care. Within days, they said they would not be adopting him out and if we could not transfer him he would be euthanized because of dog aggression.  
Our Solution:
ARK found placement with a rescue.  We found that with slow, controlled introductions, Stan actually was ok with other dogs, he just had no social skills.  
Happily Ever After:
Stan was adopted and has a sweater wardrobe most humans would die for!!!
---
Jenni
The Challenge:
Jenni was very reactive to dogs.  The Animal Control Officer was continually picking up Jenni after she'd escape from her home.  The owners were not sure if they wanted to keep Jenni.  The Animal Control Officer did not want to send her to a shelter for fear she would be euthanized.  She contacted ARK for help.
Our Solution:
ARK found a foster with a dog that was willing to work with Jenni on dog introductions in attempts to see what the particular issue was and whether it could be managed. What was discovered is (much like Stan's story) Jenni was ok with other dogs if given slow, controlled introductions. She did fabulously with her foster sister.
Happily Ever After:
Jenni was reconnected to her original owners through joint efforts of ARK and the Animal Control Officer. Because of Jenni's increased socialization during foster care, along with our training tips, the owner now has the tools to keep Jenni safe and cared for.
---
Ginger
The Challenge:
ARK was contacted to evaluate Ginger who was at a holding facility in the central part of the state.
Ginger would freeze and growl when anyone attempted to touch her.  Still there was something about this dog that made the evaluator realize she was just frightened.  And who wouldn't be?  These strays are picked up off the streets, placed in a noisy kennel and then strangers are poking and prodding at them.
Our Solution:
A foster was found through a rescue and Ginger displayed none of the behaviors she displayed during ARK's evaluation.  She was relaxed and a great companion to the foster's own dog.  
Happily Ever After:
Ginger soon wiggled her way into her forever home where she continues to thrive.
---
Jasmine & others
The Challenge:

ARK was contacted by volunteers at a shelter that obtains most of their dogs from the South.  Some dogs were scheduled to be sent back to the South because they were either possibly a pit bull mix and the shelter does not rescue pit bulls or the dogs were not doing well in their kennel. Another long transport back from Massachusetts to Alabama would be very traumatic for these dogs.
Our Solution:
We were able to convince the shelter that local rescues would be able to take the dogs and, with the help of the volunteers.  ARK was able to do just that.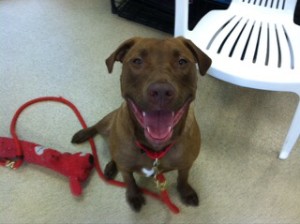 Happily Ever After:
All the dogs did well in their foster homes and all have been successfully adopted. 
---
Percy
The Challenge:
Percy, a Papillion, was at a shelter for many months. He became so stressed that there was little hope for adoption.  He would not allow anyone to pick him up without biting them, and he did not get along with other dogs. ARK evaluated him and confirmed these behaviors but felt there was hope for him. 
Our Solution:
ARK arranged for a smaller, quieter shelter to take Percy.  After a little fluffing and buffing, Percy was ready for the adoption floor. 
Happily Ever After:
Percy was adopted and loves to be handled.  He is living happily with another Papillion! 
---
Chuco
The Challenge:
Chuco did not do well on his initial evaluation. The Animal Control Officer knew he was a good dog that deserved a chance, so he contacted ARK. 
Our Solution:
Chuco passed ARK's evaluation with flying colors but we discovered he was heartworm positive. Money was raised for his treatment and a foster was found where he could recover. 
Happily Ever After:
Chuco proved to be an absolutely wonderful dog. He completed his lengthy heart worm treatment and was adopted very soon after that by a family that had recently lost their dog.
---
Mitzy
The Challenge:
Mitzy was blind and scared. All of the Animal Control Officers at the kennel were frightened of her and deemed her aggressive-all but one who advocated for her.  Mitzy was evaluated and did not do well so her Animal Control Officer advocate contacted ARK.
Our Solution:
ARK didn't need any more information on her behavior but needed more information on her medical diagnosis concerning her vision. We offered to pay for her to be examined by a vet. However the Animal Control Officers would only take her to the vet on a catch pole.  We vetoed that, knowing she would be set up to fail.  Once she was safely in rescue, we would have her seen by a vet. So we networked for a rescue to take her immediately. We found a rescue and the foster came to the kennel to observe our evaluation.  Mitzy did brilliantly and went home with her foster parents that very day.
Happily Ever After:
Very soon thereafter, Mitzy was adopted and continues to thrive. 
---
Finn
The Challenge:
This story is in 2 parts:
Pre-Original adoption:
Finn suffered from separation anxiety at the kennel. He would soil, destroy and often break out of his kennel and, because of that, was difficult to find someone who would want to take that on.
Our Solution:
ARK decided to give Finn a trial run with a foster.  To the relief of the foster, he turned out to be a dream dog. He did not show any signs of separation anxiety in the home environment, he kenneled well and he never soiled in the house.
Post Original Adoption
Finn was adopted out to people who eventually abandoned him.  Thankfully he was found by upstanding people.  He was brought to the local shelter and was scanned for a microchip which fortuitously was still under ARK's name.  Immediately after being contacted, an ARK volunteer drove over an hour to pick Finn up.  When we contacted the adopters they told us that Finn was with them and was not lost. They were lying.
Our Solution:
ARK vigorously worked to prosecute the adopters for abandonment but the police closed the case without pursuing.
ARK continues to fight for dogs in need.
Happily Ever After:
Finn was finally adopted out to a family that treats him like a prince and consistently and regularly works with a trainer one-on–one to build his confidence after the abandonment.  We get regular updates on Finn's progress, the bond formed with Finn and praises from the trainer of how Finn finally won the jackpot with his committed and loyal family.