HAITI  
Circumstances arose and I was unable to keep my pitbull dog of 7 years. I had tried over 10 agencies via phone calls and email and none of them were willing to help due to my dog's breed and age. Thankfully, I was put in touch with Animal Rescue Konnection. They immediately started to work to help us with finding a new home for our dog. Time was of the essence in my case and I needed a speedy resolution. They were upfront and honest about the process taking time and my needing to put my own effort into helping with the situation because ultimately my dog was my responsibility Not ARK's. But ARK was there to assist us and provide support.  Since I was stressed and in an overwhelming situation, the questions and comments I received seemed to be judgmental and I became defensive. As we all know, it is hard to read "tone" over email and I took what was said the wrong way. After taking a step back, I realized that part of my reception to Mary Lou's comments was some of my own guilt and sadness for having to re-home my dog of 7 years. Mary Lou didn't let my defensiveness sway her willingness to continue to help place my dog. Ultimately, we both wanted the same thing – to safely and properly re-home my dog. Amazingly, we got the message that ARK  had found a spot for my dog. The expediency of the whole process was both a relief and a sadness because it meant our beloved dog was leaving. I want to thank Animal Rescue Konnection AND Scituate Animal Shelter and volunteers that provided transport and safe arrival of my dog to her new location. I can't thank you all enough.
Tiffany Sullivan
ARK Comment: We firmly believe shelters have a duty and responsibility to our community dogs. To refuse a community dog in need, especially without thoroughly exploring each dog and their circumstance, is irresponsible. 
---
NALA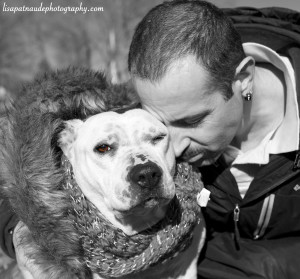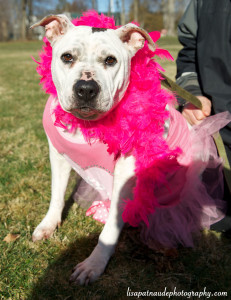 I'd like to start off by saying that ARK was a life saver to me and my dog Nala, who is a pit bull. It started when my ex roommate let my dog out without a leash unattended and she went after the neighbor's dog. I live in a mobile home park and they weren't too happy. They said if I didn't get rid of my dog they would evict me. This was around Christmas. I was so upset and very depressed. I suffer from bipolar and anxiety disorder. I was frantic about finding a no kill shelter but no one could help! That's when one day a representative from ARK had gotten back to me from one of the shelters and said that they would help me try to keep her. Well this person I didn't even know and she didn't know me went above and beyond what I even dreamed she would do!! ARK had me get letters from my Dr and had my dog evaluated to get a good citizen canine certificate. They also worked with a lawyer to mediate with the place I'm living. ARK also went has far as having a professional photo session done with me and my dog!!! They spent a lot of time and effort to help me when no one else would!! Well the end result is I get to keep my dog!! I can't even put into words on what ARK has done for us and I can never repay them for everything they have done!! ARK is a godsend!!!
Thank you ARK!!
Chris Olivolo
ARK Comment: In 2016 ARK formally launched their Life Preserver Program for Owner Surrenders.
     Step 1- Find out why the owner feels they need to surrender the dog.
     Step 2- Help them keep their dog if at all possible no matter what it takes.
---
SOPHIE
I had a 10 year old dog named Sophie who I needed to find a new home for. After trying everything I could to find a good home for her on my own I sought out shelters and rescue leagues to take her but I was turned down every time. Some of them said it was because of her age others said they just didn't have room. Until finally I was put in contact with Mary Lou and the Animal Rescue Konnection (ARK), they did an evaluation and found an amazing foster home that same day! I don't know what I would have done if it wasn't for Mary Lou and Animal Rescue Konnection (ARK) I might have had to put Sophie down.
Michelle D'Arcangelo
ARK comment: Thank you to the shelters and rescues that open their doors to older pups and dogs that may have medical or behavioral issues. We highly respect local shelters that have a policy that make it a priority to 'shelter and rescue' all of their own community dogs in need. Not until each community focuses on their own community dogs' needs first can we attain a true no kill state
---

FINN & ATHENA 
I am an ACO and ARK has helped me twice by placing 2 Pitbulls. One named Finn who I found abandoned behind Bridgewater Correctional Complex. Finn is now living a great life thanks to ARK for never giving up on him! The other pittie was Athena, they took the time to network her for us. They ended up reaching out to the exact type of person Athena needed in her life!
Thank you ARK for your compassion. Both of these dogs mean a lot to me and I appreciate your help.
Lisa McKay
Bridgewater MA
Animal Control Officer
Animal Inspector
ARK comment:  Thank you to all the Animal Control Officers in Massachusetts for their work with the abandoned and homeless animal population.
---
FRECKLES
Freckles came to Alliance for Animals in January, 2012. She came in for a spay, but as the husband filled out the paper work, the staff witnessed the wife swearing at her and kicking her. We decided to ask them if they would be willing to surrender her to us and they were happy to do so. Freckles was a pitbull mix, approximately 9 months old and very cute.
It was immediately obvious that Freckles was lacking even minimum training or exercise. She was hyper, was not house-trained, and was completely unsocialized with other dogs. She was extremely affectionate with people but had no idea how to behave indoors.
It was very difficult for Freckles to cope with our clinic environment, with cats and dogs coming in and out all day. Most dogs find it difficult not to be able to interact with the animals but for Freckles it was impossible. She barked nonstop and lunged toward the counter trying to get to the dogs. It was hard for everyone. We started sending her to day care when we had appointments and enlisting the aid of a dog trainer on off days but we knew the only hope for Freckles would be foster care in a quiet home. She was unadoptable in the current situation.
It took many months but we finally found her an ideal foster home with a retired couple in a quiet suburb of Boston. We also continued her obedience training. Freckles is an extremely smart dog and all she needed was a chance to learn how to focus. Her foster home was very loving but not experienced in dog training. Nevertheless, Freckles finally relaxed and when the couple became grandparents, she really took to the new baby girl. It was clear that she would never be aggressive with humans after so much exposure to countless people of all ages, sizes, types, singlely or in groups, but we still thought that she would not be able to get along with dogs and would need a home as the only pet. She had been introduced to staff pets – two male pitbulls one at a time. She was good with those dogs, but there was no opportunity to introduce her to any other dogs, and she continued to behave inappropriately with dogs she encountered on walks.
Time for Freckles was becoming short because her foster parents would be going to California and there was nowhere for Freckles. We were very scared for Freckles. There was only one month left and after appeals to hundreds of rescue organizations and individuals no one had responded. Then we found ARK.
ARK volunteer Laurel came to evaluate Freckles according to their standard evaluation process and she easily passed. Next they introduced another female pitbull to Freckles and she did great. They agreed to assist us in finding a foster or permanent home on an urgent basis. They took new pictures for our website, Petfinders, and Adopt-A- Pet, re-wrote our online story about her, and put the word out to their many contacts.
Attracted by Freckles' new pictures a wonderful couple contacted us about Freckles. They have a large piece of land on the Cape where they do wildlife rehabilitation and rescue. They work from home and would always be with her, Freckles could sleep in the bed with them – in short, the perfect home for our precious girl. Now it is January 2013 and Freckles lives with other dogs, races and plays the way all dogs should, goes on long walk and has the forever home we dreamed of but feared would never come.
Thank you ARK for all your care and dedication. As the saying goes, it took a village and a lot of work and time but the life of a good dog was saved.
Alliance for Animals
ARK comment: Sometimes all that is needed is new photos, spiffed up bios and fresh networking. ARK assists with all of that.
---
BELLA
I was first put in contact with Mary Lou with Animal Rescue Konnection when I needed to find a new home for my puppy due to allergies and the rescues I contacted could not help me. Mary Lou contacted me the day before Thanksgiving and gave me multiple resources to start getting Bella on different adoption websites to start the process of finding her a new forever home. Mary Lou was instrumental in finding Bella's new home (her adopter's found her off of one of the adoption websites Mary Lou helped us with) – from the first posting on the adoption websites to the time we said goodbye to our four legged friend, Mary Lou helped us every step of the way. She took the time out to help with the private adoption when that is not something that the rescues normally do. We are forever grateful that there are people out there like her.
Thank you, Meghan Valley
ARK comment: We will assist owner surrenders willing to do the work to properly re-home their dog. We provide resources, tips and tricks on many different levels to empower dog owners every step of the way
---
BEAU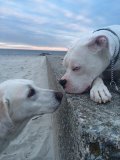 May 2015
I know I keep repeating this over and over but we are the luckiest people to have this dog as part of our lives. I really can't thank you enough. He adores our grandchildren, and all children, he loves people, period. He's playful with other animals and extremely sweet and kind. There has never been one accident in our home. Not once. He doesn't sleep in or use a crate but stays in his bed, in our room until morning. He doesn't even try to wake us before 8 sometimes 9 in the morning. He doesn't jump for food, eat off tables, he is such the sweetheart.
Thank you, thank you, thank you all.
Maureen.
ARK Comment: Beau was an owner surrender. Unfortunately for Beau his owner refused to do the work required to rehome Beau. We took over and with the assistance of MassPaws, he found his true forever home.
---
DAISY
May 2015
I was thinking of you today and wanted to say thank you for helping us find Daisy. She is doing so great. I love her lots and she is a great member of our family. I was working in the garden all morning and she stayed right with me even when one of my sons friends came and left in a car. I told her to stay and she did. We just got chicks and she is not going after them at all, although I would not trust her alone with them. She runs around the yard like a football player carrying her toys in her mouth. She also starts at the top of our grassy hill and shimmies back and forth on her back all the way down the hill it is the funniest thing ever. Total goofball is how I would describe her.
I am constantly amazed at how great she does and how much she has learned and the more time that goes by the better she behaves, and the more she learns.
It is not perfect. If I walk her on the road she still lunges at passing cars, and if a neighbor dog wonders onto our property, she barks her head off, I don't know what she would do if she could get to them, maybe just play. She is great with Tubie our old beagle now, even during meals. So we overcame that problem. She has made friends with some one of my son's friend's dogs but we don't see them often and she is very enthusiastic, extra excited. We are extra careful and watch her every second just in case, but no fights so far.
We have had previous dogs that loved to ride in the car or truck. not Daisy, she will go to the car or truck with us, look at us and run back to the door of the house. If we have to take her she does ok, not getting sick or anything. I guess she is just not into riding.
When I think of it I'll bring my iPad out so that you can see her playing in the yard.
Just wanted you to hear a success story.
I see so many dogs posted that I would love to help but 2 dogs is good for now and when we do get another it will have to be of Daisies choosing or gradual introduction at the least.
All the best,
Ellen
ARK Comment: Daisy was in a very busy city shelter. There were simply no open foster homes. We started networking her straight to adoption. With the proper screening a wonderful match was made.
---
LANCE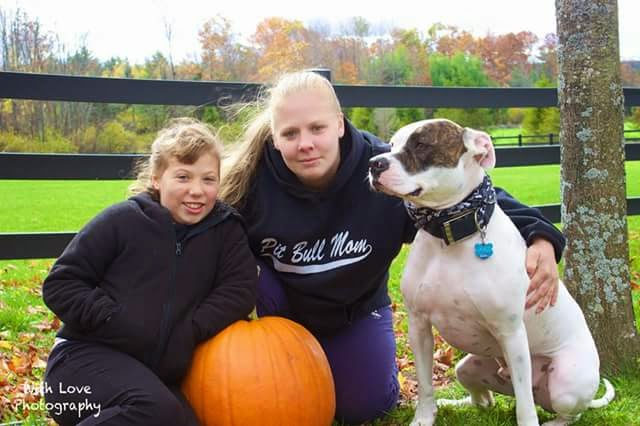 Jammie Davis adopted Lance February 23, 2013
I wanted to send you a special picture of Lance In his favorite place doing his favorite thing lol, for his big day today. Today marks a special day for us here. Today is Lances 2 year mark on his "Gotcha" day 🙂 It was 2 years ago today that we met to do our meet n greet and take him to be a part of our family. Little did I know how much of an impact Lance would have on our family and me. He is truly the best and most loving dog I've ever known. He has pulled me from the depths of depression and brought life back into me with his unconditional love. He completed our family that day and I want to thank ARK and Broken Tail Rescue for providing us with the best dog ever, and my best friend.
Because of Lance being in my life I no longer have the need for any anxiety meds because he has shown me how to live life to the fullest. I always say Lance is the one who rescued me. Thank you ARK for all you do and have done ♡♡♡
ARK comment: Lance is an example of a dog that wasn't doing well in a shelter. We are grateful for the shelters who value and use outside resources to help animals not doing well in their current environment. The minute Lance was moved to a foster home with Broken Tail Rescue, his stress decreased and his true personality came through.
---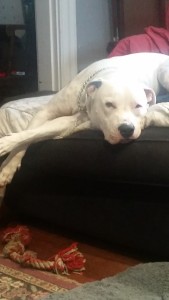 Animal Rescue Konnection(ARK)  was a god send! They helped me get my boy out of the SPCA and out of trouble. Without ARK I may not have my boy today! I was very upset he was taken from me and wasn't sure how to get him back and ARK helped me by making phone calls to the people that needed to be contacted and the following week I had my pup back. Thank you so much ARK.  Your caring and helpful ways will NEVER be forgotten!
Kim Landreth
ARK Comment: Often people don't know what to do when certain things happen effecting the welfare of their pets.  ARK researches the facts of each case, informs owners of their rights and provides alternative solutions.  Here it was simply a matter of miscommunication and a third party was needed to clear it up..
---
JENNI
I just wanted to start off by saying that as I write this; Jenni is lying with her head on my lap.
My name is Shane and I am a 22 year old male who just graduated from the University of Vermont.  I have been looking to adopt a dog of my own for almost a year. I am an avid outdoorsman and love hiking, camping, hunting, fishing, skiing and watersports of all kind in all types of weather. I was mainly looking for a buddy that can accompany me on all of my adventures.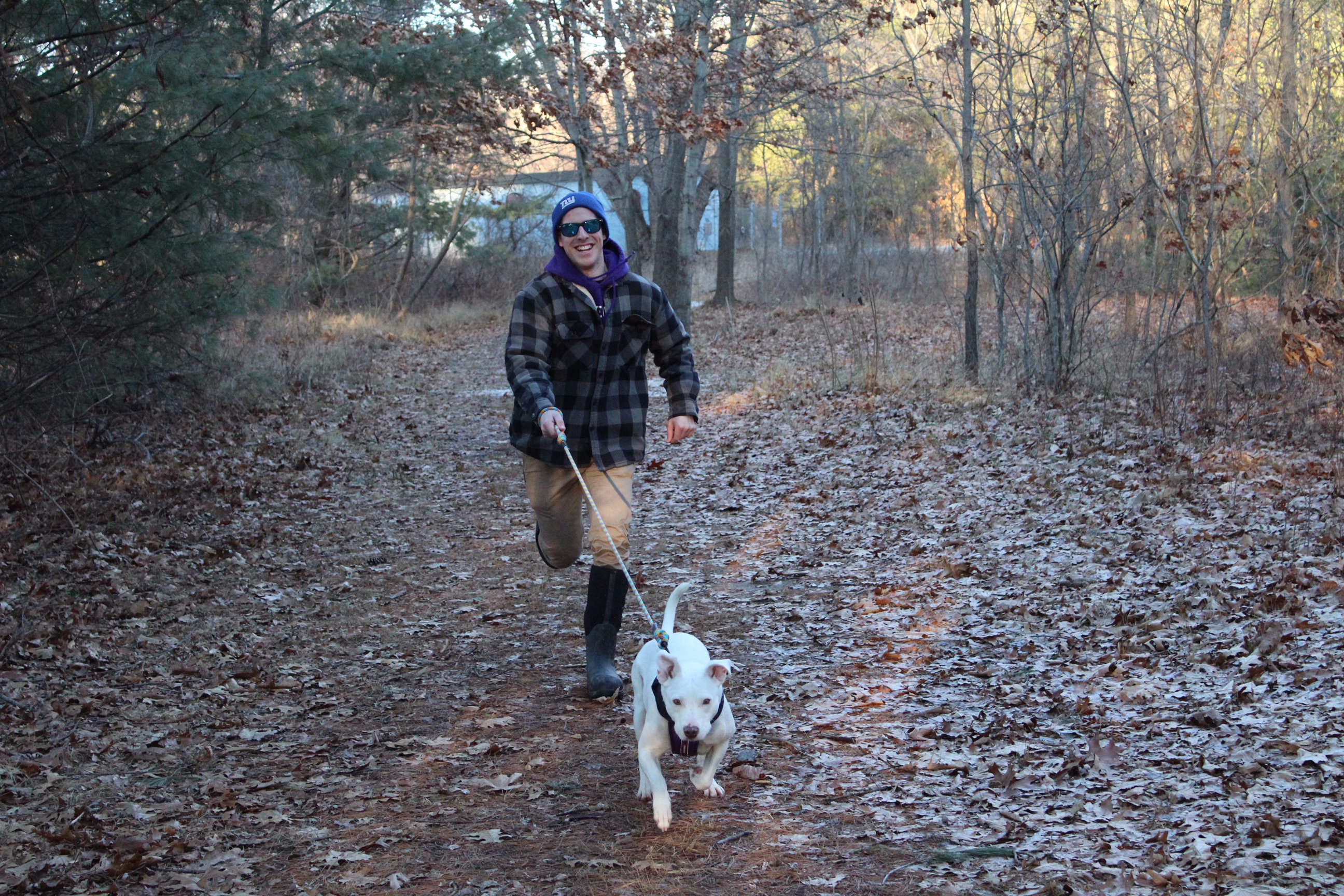 I came across Jenni when I was originally looking at another pit but from the day I met the first pit in my life I knew I wanted one and had to rescue one of my own. They are the most cuddly, loving, loyal breed I have ever met. Jenni is all of those things and even more. The day I met her she ran from Ellen's car and shoved her head straight into my lap and it was clear that all she wanted was love. She wanted someone to love her and care about her. I am willing to give Jenni all of that and more and all that she has to do is return the love. Every morning when I wake up she loves our morning hikes along the Merrimack River. I come home from lunch and she is so excited to see me she greets me with kisses and hugs and we get to go on our short walk. We end the day together by taking one long hike or walk around the neighborhood or on some local trails. She loves to pull me on my skateboard and shows it by giving the biggest smile ever.
I work in a dog friendly office and have the pleasure to bring Jenni to the office 2-3 times a week. Everybody has fallen in love with her. There is not a single one of my co-workers that has a bad thing to say a about Jenni. All that she wants is love and you can easily tell that. When she gets some loving she is the sweetest dog ever.
I know people will think that Jenni is the lucky one in this situation but I truly think that I lucked out. Jenni is so happy doing the things that I love best outside and can't wait for her to join me on so many more adventures throughout my life.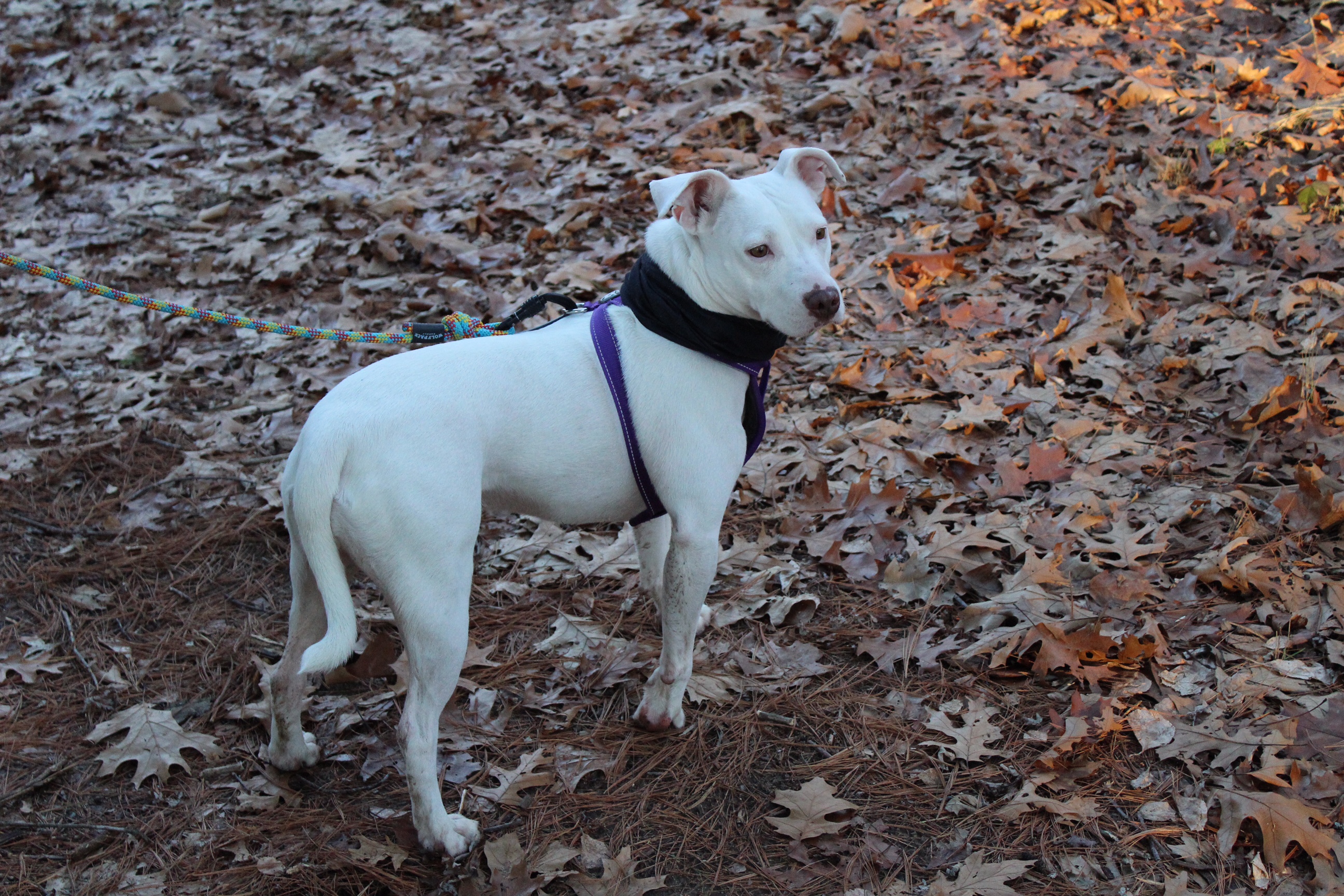 On top of all of this, my days end by Jenni lying her head on my chest letting me know it is time for bed. She sleeps next to me all night long.
ARK Comment:  Thank you to people out there like Shane who understand the value of true commitment and responsibility.  Jenni was treated poorly by her previous owners-no real abuse but not the crème de la crème of society shall we say.  But she hit the jackpot with her adopter and went from society's low  to society's high.  And she never looked back.